Last night we grabbed bicycles and took a little spin down the road and back.
After years of living on mountaintops, we live in a fairly flat valley now. An evening jaunt on a bicycle is a pleasure instead of a distressing, heart-attack-inducing grind.
My daughter took the beat-up yellow mountain bike we bought in Bar Harbor back in the 90s. She's 17 and we were happy she joined us for the ride. R was on his cyclo-cross or his single speed (can't remember, because he has a collection). And I was taking out my newly restored red, blue and chrome 1960s Sears Spaceliner.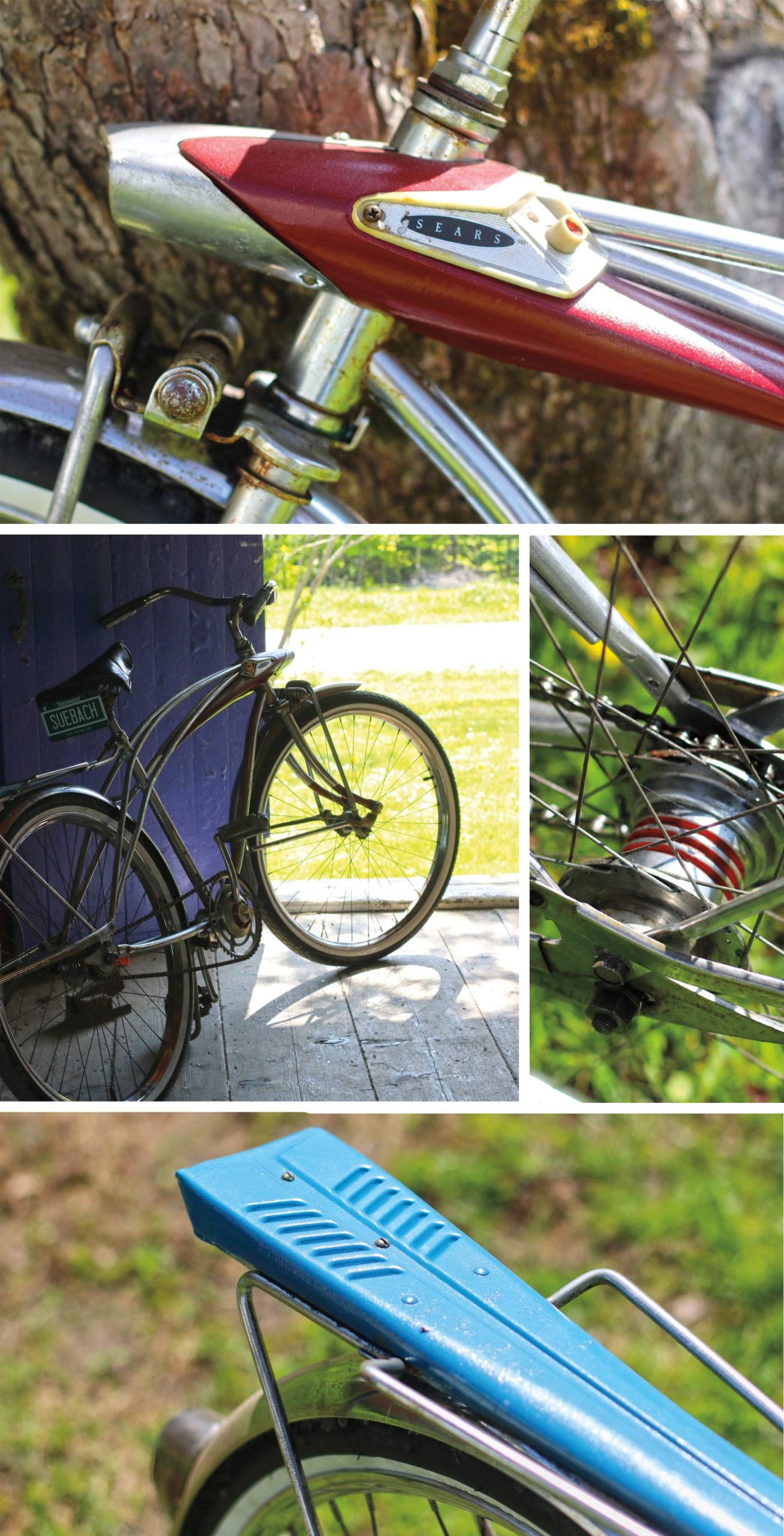 I put many miles on this bike in the flat streets of a northern Indiana town back in the Eighties. It fell out of use for the last 30 years while we lived (mostly) on a mountaintop in Vermont. The thing weighs a ton and is stuck in a single low gear (it has two, but fixing it is complicated). Last summer it was a prop for the local theater troupe's staging of It Can't Happen Here, by Sinclair Lewis (who lived several miles from here). When we picked it up afterward, we eyed up the rusty frame and decided it was time to make it road-worthy again.
This winter my husband set up a bike repair workshop in our basement and got busy steeling-wooling the rust, oiling the joints, repainting the body and messing with the two-speed hub (still having some problems, but it'll get there). He was so pleased with the result he started working on another rusty old Firestone bike that a friend gave us. Why have one vintage bike when we can have a small fleet?

Then last week I discovered a box of old photos and found a picture from the spring of 1988, which is when R first cleaned up the bike and gave it to me. The chrome is pristine and the cherry red frame looks flawless. Behind me the lush fields of my Pennsylvania childhood fall away. The next fall I took it to Indiana for my senior year of college and hauled friends through town or campus on its back rack.
More pictures in the box: a scrawny me in one of our orchard trees: eight or nine years old, writing in my Holly Hobby notebook. Scraped knees, no doubt. I see and recall my own daughter at that age and remember climbing the trees and singing to myself about fairies, gnomes and other fantastical beings. A black and white shot (from the dark-room days in college) shows a touch of melancholy which only grows in the color slide of me in my early 20s hugging a cup of tea in a back garden on a visit to London.
Why so serious? I suppose the unknowns of future were lurking in my consciousness. By London I was a few months away from marriage. My fairy earrings tied me back to that little girl in the tree, though. Still holding on to something imaginary.
The imaginary is never far away. I'll keep chasing that on my bike.