Most of our furniture is gleaned from family houses, the curb or swapped with friends. I like the eclectic nature of the whole.
But we do have a sofa that we acquired new in the late 1990s when I did design work for a furniture store and was paid in furniture. We picked it out and chose the fabric we wanted. It was the nineties so I picked a contrasting color for the piping. It was delivered to our house many weeks later wrapped in plastic, its feather cushions plump and inviting.
Fast forward through the ensuing years. The sofa is where we lounged on Sundays with the Times Book Review or knitting. It's where we collapsed after working until nightfall in the garden. I nursed my daughter there.We watched her ride the back cushions like they were a horse as she grew bigger. It's where my husband or I slept during insomnia or if the other one was very sick (it is like a giant featherbed). It's where I curled up with two different cats through the years.
Oh the cat. The first cat did a number on the slip cover. The right side was shredded to oblivion by about year 10. So it was removed and the sofa was stripped down to the white base upholstery. I put the cover in the attic where I thought I may someday choose to repair it.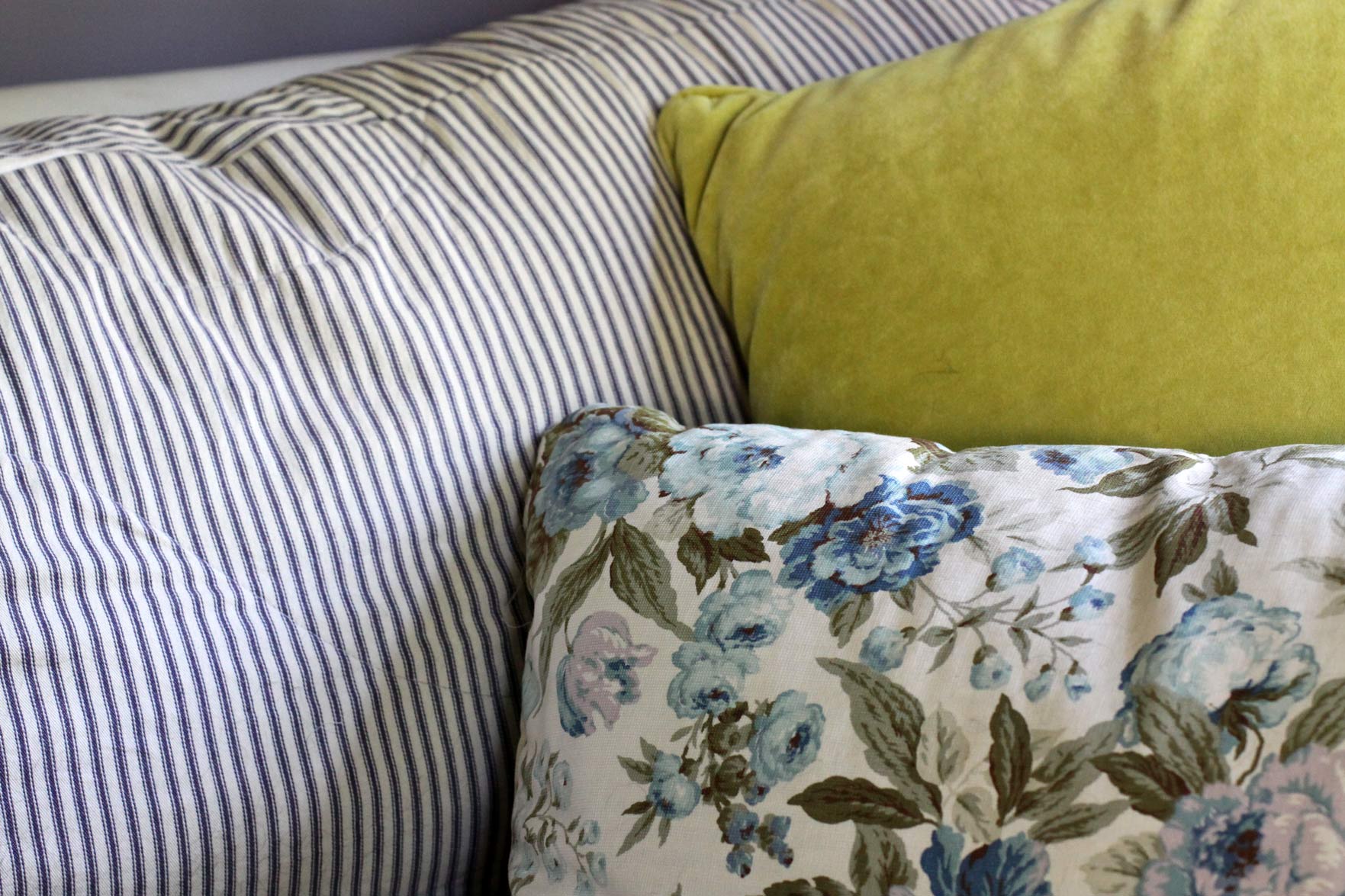 Dirty kid feet imprinted the white base upholstery. The feather cushions got less plump and needed daily slaps and fluffing. The piping on the original covers frayed from exposure to years of sun. Various blankets were strewn over it to make it look less ravaged.
When we moved I found the cat-shredded cover and happily got rid of it. After 20+ years I was ready to give this tired sofa a facelift. Even after all this time it is the most comfortable piece of furniture we have. As ratty as it looks we still love it and choose it over most other places in the house.
So this summer and fall I began by recovering the four cushions with ticking. I wanted something bespoke and unusual. I wanted angles and interesting seams. I thought I'd add some hand-stitches and some accent colors. I made patterns of the old covers and got started without thinking too much. And I love the result!
Winter project: the sofa body. I have some ideas brewing and will share when I've gotten started.
But first, gotta sink back in the sofa for a wee nap.